Tom decided yesterday that he was going to take down a tree at the bottom of our side grass area, which although not over big was overhanging the road and was generally getting in the way.
Here is the result of work so far, he will strip the branches and saw them into logs for the log pile for winter.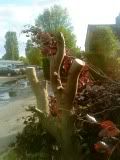 Dave has been laying some crazy paving using some broken slabs he has been allowed to take from the farmers land next to where he works.
Here is what he has done so far.